A High Performing Hawaii Public Charter School
Announcements
Aloha KCS 'Ohana,
In light of the recent developments, our administrative team has made some adjustments to our reopening plan. We will begin with a soft opening and allow one division on campus at a time for the first two weeks. This initial orientation period will enable students to connect with teachers and begin preparation for face-to-face and distance learning programs. Furthermore, this will significantly decrease our on-campus population to start the school year.
Schedule (8/17 - 8/28)
Elementary School
Grades K-5 students will attend classes on campus Monday through Friday from 8:15 am - 11:00 am.
Grades K-5 students will be given virtual instruction and assignments to complete at home Monday through Friday from 12:30 pm - 2:15 pm.
Middle School
Grades 6-8 students will attend classes on campus Monday, Wednesday, and Friday from 11:45 am - 2:30 pm.
Grades 6-8 students will attend virtual classes at home Monday, Wednesday, and Friday from 8:30 am - 10:15 am and also Tuesday and Thursday from 8:30 am - 2:30 pm. 
High School
Grades 9-12 students will attend classes on campus Tuesday and Thursday from 11:45 am - 2:30 pm.
Grades 9-12 students will attend virtual classes at home Tuesday and Thursday from 8:30 am - 10:15 am and also Monday, Wednesday, and Friday from 8:30 am - 2:30 pm. 
Foodservice
Breakfast and lunch will be available every day for students. 
Elementary students are welcome to eat breakfast on campus from 7:45 am - 8:10 am and take home a grab-and-go lunch at 11:00 am following their school day.
Middle and high school students are welcome to pick up a grab-and-go breakfast from 7:45 am - 8:10 am and eat lunch on campus from 11:15 am - 11:40 am before their school day begins.
Drop-off and Pick-up
The campus will open each morning at 7:45 am. There will be no campus supervision prior to that time. 
Students are to be dropped at the front of the school building off Lipoa Parkway.
Students will be directed by staff members to supervised areas of the campus prior to the start of the school day.
Students are to be picked up at the end of each school day at the same location. 
There are no after school programs or extracurricular activities on campus at this time.
We request that parents do not arrive early for pick-up as this often creates added traffic and slows the pick-up process. 
Special Education Services
Additional in-person special education services will be provided for all qualifying students.
Administration Update
Leslie Baldridge will lead the elementary and middle school divisions as the k-8 director.
Ellen Federoff will lead the high school division as the acting high school director.
Ethan Taylor will lead the special education department as the acting special education coordinator.
In Closing
We appreciate your adaptability during this challenging and everchanging time. Please know that we will continue to monitor our program and provide updates along the way. Additional instructions for each school division will be shared by directors and faculty shortly. 
We will look forward to a new school year and wish you all the best,
The KCS Team
---
Safety will be the #1 priority for the 2020-2021 school year.
Students, staff, and visitors should use face coverings that cover the mouth and nose.
Face masks will be required when 6 feet of social distancing is difficult or not possible.
Students will remain within their cohort (bubble) throughout the day and should not interface with other cohorts. 
Campus sanitation will take place throughout the school every day.
Safety and sanitation products will be accessible in every classroom, meeting room, eating area, and office.
Signage will be posted throughout the campus with proper safety protocol and detailed instructions for social distancing. 
Staff will be trained and students will be instructed on how to be as safe as possible while on school grounds.
Parent Expectations
We request that parents take the temperature of their children each morning before school. If the child has a higher temperature than normal (everyone has a different normal temperature), then the child should remain at home.
We request that parents provide their children with two masks every day. This will ensure that the child will always have a mask in the event that one is lost or damaged. If the child does not have a mask the school will provide one.
If a student displays symptoms of an illness, she or he will be escorted to the health room for a temperature check. At that point, the health aide will determine if the student is ill and needs to be sent home. If so, a parent will be immediately notified to come to the school and pick up the child.
If your child tests positive for COVID-19 we request that you inform the school immediately. That will enable us to conduct contact tracing and potentially quarantine a specific cohort (bubble) away from the campus for a period of time.
We request that you help to educate your child as much possible with respect to the changing times, especially with reminders about the importance of safety protocol. 
We understand that this a very challenging time, and open communication is essential for us all. Please do not hesitate to reach out to our staff, faculty, or administration should you ever need additional support.
In Closing
As you know, we are entering into a new age for education and life in general. We hope to do all that we can to support our students and all our 'ohana. We will continue to monitor our program and adjust as needed. Lastly, we realize that there are many items that we still need to discuss and address in further detail. Consequently, our team will continue providing additional information regarding our program over the next couple of weeks.
We are truly looking forward to a safe and productive school year at Kihei Charter School.
All the best,
The KCS Team
Luau Live Here 5 PM Today
Our 5th Annual Lu`au Silent Auction Fundraiser is now live, online at: KCS Lu`au Silent Auction
Kepler's Road to Coaching Unconventional - Dire diagnosis inspired Kihei Charter coach to commit to running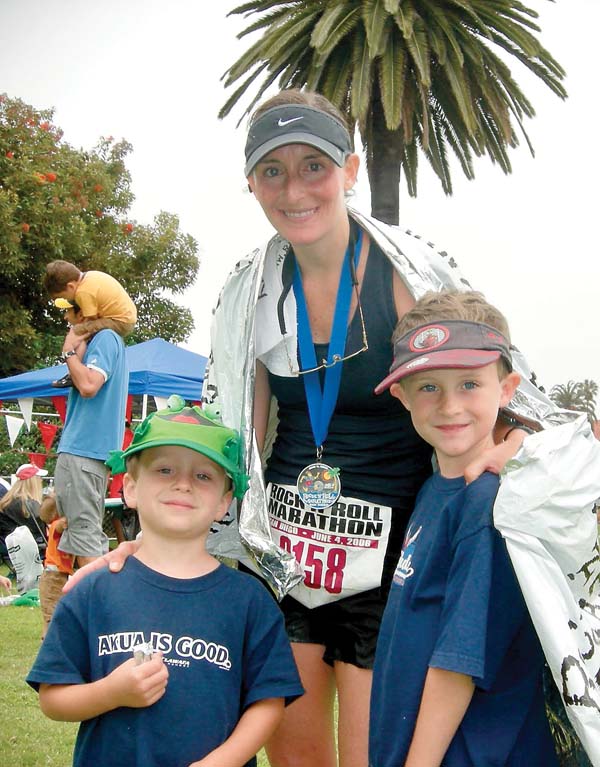 Cassie Kepler smiles with sons Josh and Pohaku after completing her fourth marathon, the San Diego Rock and Roll Marathon.
Cassie Keppler Maui News Article
Congratulations Class of 2020  Graduation Live Here At 5 PM HST
Taylor's Senior Project Video: https://youtu.be/5BrBzScxZPg
Teacher Shout-Out Video: https://youtu.be/6Nq8OOqbQPU
Senior Photo Slideshow: https://youtu.be/Vb50TwPh3ec
8th Grade Promotion Live at 4 PM
Virtual Sports Banquet
Our 2nd Lottery Will Be Held Tomorrow May 6th In The School Cafeteria At 5:30 PM
It Is Open To The Public
Social Distancing Will Be Followed And Temperature Checks Will Be Administered.
Covid 19 School Closure Information
The Superintendent announced the continuation of distance learning through May 28, the last day of the 2019-20 school year.  Consequently, the KCS campus will remain closed for students and we will continue our distance learning program for the remainder of the 4th quarter.